Contact Us
Museum Director
Alex Oyoque
aoyoque@alamotexas.org
130 S 8th St, Alamo, TX 78516
Tel: (956) 961-4398
Museum Hours:
Monday through Friday
8:00 am – 12:00 pm
1:00 pm – 4:00 pm
Closed 12:00 pm -1:00 pm
Saturdays 10 am-2 pm
Closed Sunday and City observed holidays
Currently, visitors will see approximately 1,800 angel figures collected by Shirl Pfeiffer over a period of 30 years! Shirl and her husband Paul are from Wisconsin and were Winter Texans for some time before moving permanently to Alamo. Shirl offered the collection to the City of Alamo, the Mayor and Board of Commissioners and a museum committee which formed in the fall of 2015.
El Gato South Alamo Tx Exhibit Opening Reception
The City of Alamo Museum and Friends of the Museum presented the El Gato South Alamo Tx Exhibit Opening Reception on August 26, 2021 at 6:30 pm. For information please contact the City of Alamo Museum at 956-961-4398.

South Texas Historical Association Symposium
The South Texas Historical Association in conjunction with the City of Alamo Museum held an international symposium on South Texas history Friday and Saturday, Nov. 1-2, 2019.
The association's fall conference at Bowie Parental Engagement School in Alamo celebrated the uniqueness of South Texas' heritage with a panel of more than a dozen distinguished speakers, along with exhibits about World War II and model railroading, and a variety of vendors. The symposium, which is part of a 65-year tradition of sharing and educating people on South Texas history, kicked off with a 6:30 p.m. reception on Thursday, Oct. 31, 2019 at the City of Alamo Museum, 130 South 8th Street. The open house included a meet and greet with the speakers and conference members along with refreshments. A patriotic quilt gift to a U.S. service veteran was also planned for that evening. The two day symposium was free except for a $10 catered lunch each day. To gain more information, stop at the City of Alamo Museum, at 130 South 8th Street, or phone 956-961-4398. Click here for Agenda.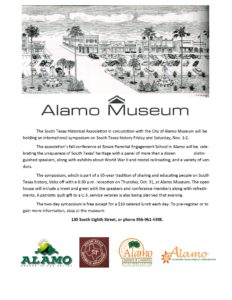 Musuem featured on Con Mi Gente
ALAMO – In years past, details of the city of Alamo's history was kept at the fire department. Documents passed down from fire chief to fire chief. Now, they found a permanent home in the city-run museum. "They went through different commission sessions and created a museum department.