Contact Us
Public Works Director
Julio Villarreal
jvillarreal@alamotexas.org
Public Works Secretary
Edna Garcia
egarcia@alamotexas.org
803 S. Tower Rd. Alamo, TX. 78516
Tel: (956) 787-8321 ext 125
Fax: (956) 283-1310
Due to the summer heat, Public Works Department, Parks and Recreation Department, and Recycling Center will be implementing their annual summer hours. Summer hours for these departments will be Monday thru Friday 6:30am-3:00pm. Regular hours will resume at the end of the Summer season. If you have any questions call the Public Works Dept at 787-8321.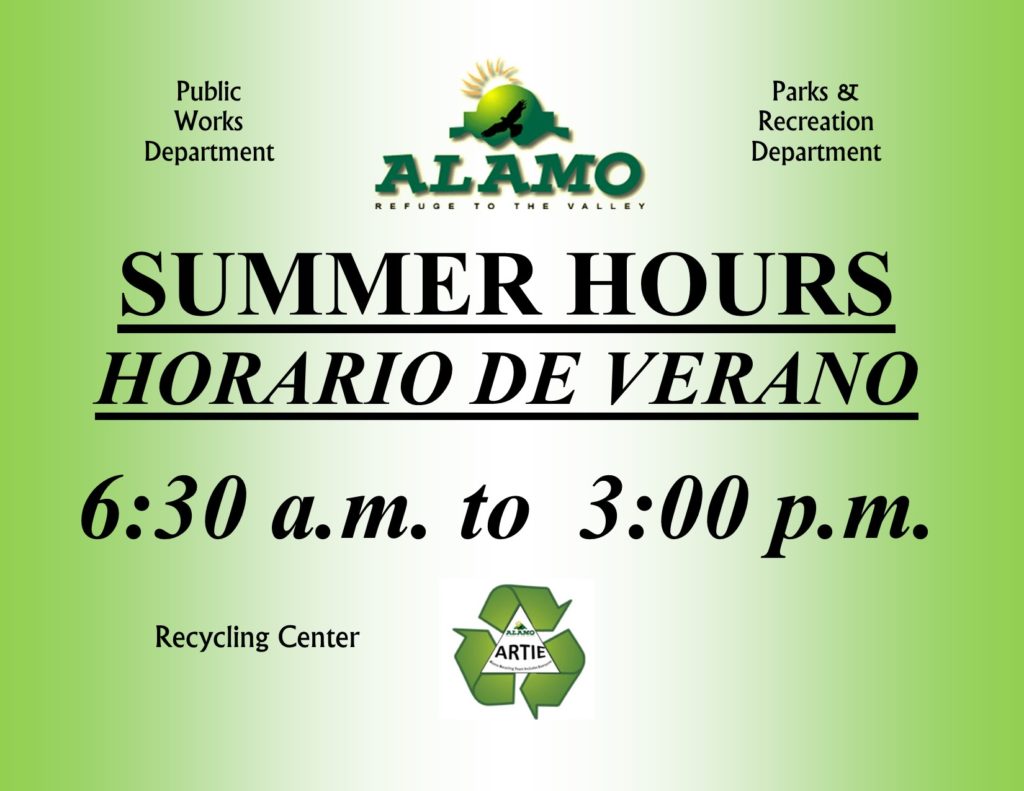 At the City of Alamo, we're constantly striving to provide all our residents with the tools needed to continue enjoying life in our beautiful city. This includes providing public works services that are designed to full meet our resident's needs.
Roll Off Dumpster
Our roll off dumpster at City of Alamo Public Works Service Center is located at 803 S. Tower Rd. This service is for RESIDENTIAL USE ONLY! Hours of operation are Monday thru Friday from 8:30am-11:30am and 1:30pm-4:30pm. Contractors are not allowed to dispose of items at this location. Contractors need to make appropriate accommodations to dispose of their debris at the Allied Waste Landfill. For information call the City of Alamo Public Works Service Center at 956-787-8321.
City of Alamo residents MUST SHOW PROOF OF RESIDENCE (i.e. water bill, I.D or bill with physical address with name). Items allowed in dumpster include:
Sofas
Mattresses
Plastics (plastic/wooden chairs)
Lumber (small amounts only)
Sheetrock (small amounts only)
Carpets/linoleum
Items NOT allowed:
Tires
Batteries
Hazardous waste or liquids
Household garbage
Concrete/ceramic tile
Appliances containing Freon
Brush
Any electronic devices.
Click here for a more detailed, printable list. Note: Replacement of a broken or inoperable 96 gallon garbage container should be reported to the Utility Department by calling (956) 787-0006.  Please be prepared to give the physical address and the account name in order to facilitate the order request.
Recycling
Recycling items will be accepted at 612 S. Tower Rd. Alamo, TX. 78516
. Items that are accepted include:
Newspapers
Magazines
Phonebooks
Aluminum cans
Cardboard
Used motor oil
Brush Services
You will receive your first brush pick-up during the month of July. Once a month thereafter you will receive another pick-up for a total of 12 brush pick-ups per year. Please keep brush free of debris such as tires and construction material such as shingles, corrugated metal, sheet rock, painted lumber, concrete, bricks, rocks, dirt, etc. Please keep brush/clean wood in a separate pile from bulky items.
In addition to your regular brush service, you will also receive monthly bulky item service. Bulky items include furniture (such as sofas, mattresses, tables, chairs, etc.) and appliances (such as stoves, washers, dryers, etc.). Items containing Freon such as refrigerators, freezers, or air conditioners cannot be collected unless the Freon has been removed by an authorized facility and is labeled with a decal from that facility indicating that the Freon has in fact been removed. Please keep bulky items in a separate pile from brush for recycling purposes. Items that won't be collected include:
Construction debris
Tires
Liquids
Hazardous waste
Dirt
Rocks
Please refer to the calendar for your regular monthly brush/bulky item collection schedule for the remainder of the year.
Section #1: North of Expressway 83 – Second full week of each month.
Section #2: Between Expressway 83 and Business 83 – Third full week of each month.
Section #3: South of Business 83 – Fourth full week of each month.
Please do not place items within 6 feet of any obstacles, such as gas or water meters, telephone service boxes, overhead wires of any kind, parked cars, building overhangs, etc. Be sure to place your brush and bulky items out before the first day of your scheduled pickup week to ensure pick-up. In order to help achieve recycling goals, please place your brush and bulky item in separate piles. We greatly appreciate your cooperation in helping us keep the City of Alamo as beautiful as it can be. If you have any questions, please contact our operations department at 1-800-423-7316.
Streets and Sanitation
The City of Alamo's street department takes care of maintenance of roadways and alleyways. Maintenance includes mowing tall grass besides roadways, alleyways, right of ways, pothole maintenance, and street cleaning. If there are questions or concerns with city streets please call (956) 787-8321.
Street Lights
If there are any street lights out or broken, please report them to the Public Works Office at (956) 787-8321. We will report it to the proper agency.
Alley Mowing or Cleaning
Alleys are mown by sections as needed. Please contact the Public Works Office if there are any alleys that need mowing or cleaning.
Mosquito Spraying
Mosquito spraying is done during mosquito season, March to November. Residents are encouraged to inspect their properties for containers which may hold rain water and to keep lots mowed to prevent mosquito breeding grounds. The key factor in spraying is the weather conditions, including wind. The wind speed needs to be between 10 mph and 15 mph, pesticide does not drift to target area with too low or too high wind speed – the mosquito goes into hiding and pesticide does not find target. Weather conditions are checked daily for spraying applications. As soon as wind speeds are acceptable, Public Works Dept resumes spraying. Spraying route will continue accordingly throughout the mosquito season. Please also drain any containers that hold water in your yard to help prevent mosquito breeding. If you have any questions please contact the Public Works dept at 787-8321.
Water Plant
The Water Plant is operated 24 hours a day, 7 days a week.  For any emergency, call 787-2232.
Water Leaks and/or Breaks
Please report water leaks or breaks to the Public Works Office at (956) 787-8321 or (956) 787-2232.  Water leaks are checked and reported to DIG TESS for spotting of utilities during emergencies.  Leaks will be repaired once gas, phone, cable and other utilities have been marked.
Sewer Problems and Lift Stations
Please report sewer problems to the Public Works Office at (956) 787-8321 during normal business hours.  An employee will check the City main lines and the customer's lines for residential problems.  If the problem is found to be on the customer's service line, the employee will notify the customer by attaching an orange tag. There is a private unplugged fee of $80.  The owner of the property must come and sign the release form.
If there are any lift station problems with an alarm on, please call the Public Works Office at (956) 787-8321 during normal working hours or (956) 787-2232 after 5:00 p.m. on weekends and holidays.
In an effort to keep all of the City of Alamo's street lights functioning correctly we urge citizens to report any street lights that need repair. Click HERE or the link above and include the problem, location, and especially the street pole light number. This information will expedite the repair.
Reporting City Problems
Residents who wish to report any of the following should contact the appropriate designated numbers:
WATER BREAKS, SEWER SPILLS, AND GRASS CUTTING ROW (alleys and streets):
If you're in need to report one of these problems, call Public Works Department at (956) 787-8321 from Monday through Friday from 8am-12pm and from 1pm-5pm.
ILLICIT DISCHARGE INTO STORM DRAINS:
This includes household waste water, oils, flammable fluids, paint, etc. Customer must advise Public Works Secretary that the concern is for illegal discharge into storm water system. To report illicit discharge into storm drains call the Public Works Department at 787-8321 from Monday through Friday 8am-12pm, 1pm-5pm.
WATER LINE BREAKS AND SEWER SPILLS THAT OCCUR AFTER REGUALR HOURS (5PM-8AM), WEEKEND AND HOLIDAYS, PLEASE CALL THE ALAMO WATER PLANT AT (956) 787-2232.
Alamo Public Works
803 S. Tower Rd.
Alamo, TX. 78516
Phone: 956.787.8321