Contact Us
Library Director
Lori Solis
lsolis@alamotexas.org
416 N. Tower Rd. Alamo, TX. 78516
Tel: (956) 787-6160
Fax: (956) 787-5154
Library Hours:
Monday – Thursday: 8am – 6pm
Friday: 8am – 5pm
Saturday and Sunday: Closed
https://alamolibrary.com/
If you have any questions please call us at 956-787-6160
Brief Biography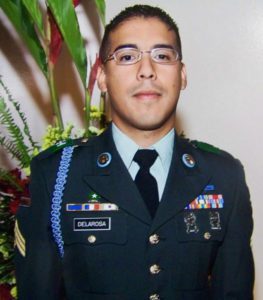 The Sgt. Fernando De La Rosa Memorial Library was dedicated on December 30, 2009 and is located next to Alamo City Hall. It contains reference, study and children's classrooms.
Fernando, or as his family knew him, "Nando", was born on June 21, 1985 and was raised in Alamo where he lived with his four brothers and parents, Rolando and Rosa. As a child, he spent much time with his cousins at his grandmother's house under the "pudie" tree, as it came to be known.
For his education, he first attended Headstart where his mother later worked. He also attended both Franklin and Farias Elementary schools. From there, he moved on to Alamo Middle School before graduating from Memorial High School in 2003. During his later years of education, he was enrolled in the ROTC program.
Following graduation, Fernando enlisted with the United States Army where he would serve six years. He saw combat in both Iraq and Afghanistan. While serving in Germany, he met his wife, Karen, whom he'd later have two boys with, Fernando, Jr. and Juan Carlos.
On October 27, 2009, Sgt. Fernando De La Rosa Sr. made the ultimate sacrifice for his country and family. Sgt. Fernando De La Rosa Sr. and his fellow soldiers were killed in a road side bomb.
"Sgt. Fernando De La Rosa Sr. and his men are gone but will never be forgotten. He and his men will always be remembered as Heroes".
His friends, family and the City of Alamo will always remember Fernando. In dedication to his memory, the city declared June 4th as "Sgt. Fernando De La Rosa Day".
Search For A Book
Use the Hidalgo County Library Catalog to find a book at the Sgt Fernando De La Rosa Memorial Library. If they don't have it and another library does, they can have it sent over.
Click on the logo below: