Contact Us
CPD Land Line Tel: (956) 787-0006
Fax: (956) 283-8855
420 N. Tower Rd. Alamo, TX. 78516
Community Planning Director
Sergio Zavala
szavala@alamotexas.org
Planner I
Dalia Zuniga
dzuniga@alamotexas.org
Code Enforcement Officer II
Rosie Castellano
rcastellano@alamotexas.org
Building Inspector
Sebastian Vaquera
svaquera@alamotexas.org
Planning Clerk
Ana Garza
agarza@alamotexas.org
Storm Water Specialist
Ernesto Silva
esolis@alamotexas.org
The Community Planning & Development (CPD) Department
is responsible for informing the general public, developers, engineers, and other interested (investing) parties of the City's guidelines, codes, and policies when developing properties.  In enforcing these primary ordinances, CPD relies on the following:
the BUILDING-RELATED CODES when building structures;
the ZONING ORDINANCE when discerning what land uses are permitted (or not) within a specific property;
the SUBDIVISION ORDINANCE when properties are being converted into buildable sites for homes, apartments, businesses, etc.;
the PROPERTY MAINTENANCE CODE, reflecting the need for property owners to care & maintain their buildings/properties in an orderly and safe condition; and,
the MUNICIPAL SEPARATE STORM SEWER SYSTEM (MS4) regulations reflect the city's focused intent to make sure that, for example, during construction of structures on larger sites or the construction of a new subdivision, that the city's storm line systems are protected from infiltration of sediment, grass clippings, etc. The city's compliance and educational efforts regarding MS4 have been randomly audited by State of Texas agencies; wherein Alamo has been consistently found to be in full compliance.
The uniform administration of these Codes, ordinances (as amended), and their related policies are designed to simplify and speed-up the process to help you build and develop; and when necessary, to remind the owner to safeguard their investment by caring for their properties.
BUILDING CODES
The City of Alamo uses the following editions regarding structural construction & maintenance:
International Building Code 2021 edition
International Residential Code 2018 edition
International Fire Code 2018 edition
International Mechanical Code 2021 edition
International Plumbing Code 2021 edition
International Fuel Gas Code 2018 edition
International Energy Conservation Code 2021 edition
National Electrical Code 2020 edition
International Property Maintenance Code 2018 edition
NOTE: The City of Alamo does
NOT
levy city registration fees for master electricians, master plumbers, licensed AC contractors. Should you have any building related questions, please email/contact Ana Garza or Sebastian Vaquera at their contact data shown at the outset of this CPD summary.
ZONING ORDINANCE
The Zoning Ordinance is a set of ordained regulations that affect each and every property inside Alamo's city limits.  Whether it's a home, a business, a school, a church, or city property - no property is exempt from zoning.  Zoning identifies what uses are permitted on any given Lot/tract; or, depending on the circumstances, which uses may be '
conditional uses'
…the latter warranting public hearing consideration and action to see if such a '
conditional use'
will be permitted or not. Also, zoning provides for the minimum size of a given lot, the minimum building setbacks, the landscaping required, the heights of buildings per zone; and refers to required paved off-street parking of a specific use, too.  Zoning regulations are a form of
Police Power
legally given to cities to govern their jurisdictions so that, when blended carefully, a balance of differing land uses (or zoning districts) will harmoniously co-exist with each other, inclusive of retaining or magnifying property values. There are 8 current zoning districts in Alamo; they are as follows:
R-1 Single-Family Dwelling District
SH/R-1 Senior Housing Residential District
SH/R-MH Senior Housing Residential Mobile Home District
R-2 Duplex, Multi-family, Townhouse & Apartment District
C-1 Light Commercial District
C Commercial District
M Industrial District
The City of Alamo's Zoning Map is also displayed on this CPD link below (NOTE: the zoning map changes from time to time; thus, should you desire to know the zoning of a specific lot, please call the CPD office – Thank you.)
City of Alamo Zoning Map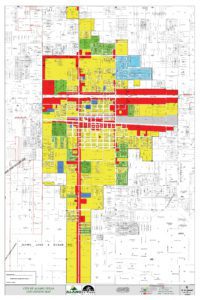 Should you have any questions relating to zoning issues or policies, please email/contact the CPD Director or the Planner 1 at their contact data shown at the outset of this departmental brief.
SUBDIVISION ORDINANCE
Alamo's Subdivision Ordinance is an extensive series of regulations used to guide residential and/or commercial developers on how best to maximize the use of their (undeveloped) acreage; said property being in the city limits or in the city's extraterritorial jurisdiction (ETJ).  This ordinance shows the minimum standards for
street paving
,
water line service
,
sanitary sewer line service
,
street lights
,
sidewalks,
and includes extensive
drainage policies
.  When approving proposed subdivision maps (or '
plats'
), staff is focused on how the incoming development plan will affect its utility systems, the realistic effect on surrounding properties, especially in regard to generated increased traffic, as well as making sure that the City's minimum drainage standards are strictly complied with.  Should you have any questions relating to the development process, please email/contact the Planner or the CPD director at their contact data shown at the outset of this departmental summary.
PROPERTY MAINTENANCE CODE
All cities struggle at times with having property owners maintain their properties - - be it vacant lots or lots with structures on them.  For example, should there be a weedy lot, a junked vehicle, or a deteriorated home, such conditions have a negative effect on the subject property but also to its surrounding neighbors.  When viewed or when Staff gets alerted of a nuisance/problem, then Staff site-examines the property, takes photos, alerts the legal owner of record to correct it, and if not, then the city will take care of it with the owner (eventually) reimbursing the City for its maintenance efforts.  Due process is a must; thus, the City alerts the owner thru a certified letter allowing a standard time to resolve it.  Should you see a matter that may be a public nuisance such as those described above, please email/contact the Code Enforcement Officer thru the email shown at the outset of this CPD summary. ***************************************************************************** CPD is the liaison department with the
PLANNING AND ZONING COMMISSION (P&Z)
.  CPD researches and prepares agenda items regarding proposed rezonings, Conditional Use Permit (CUP) applications, subdivision plats, and other policy amendatory documents for P&Z's review and action.  The P&Z usually meets once a month; being the 3
rd
Wednesday of the month at 6 pm; however, P&Z may occasionally convene during a Special Meeting, too. CPD is the liaison department with the
ZONING BOARD OF ADJUSTMENTS (ZBA)
.  CPD researches and prepares agenda items for applicants requesting variances to the Zoning Ordinance's requirements.  The ZBA meets on 'as needed' basis. CPD, of course, presents various planning and policy related items, inclusive of annexation proposals, or other special requests, to the
BOARD OF COMMISSIONERS
, as needed.
Maps
City of Alamo Zoning Map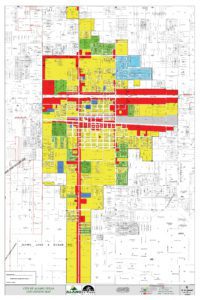 Brush/Bulky Items Pickup Zones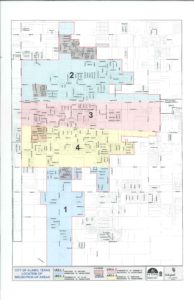 Brush/ Bulky Items Guidelines
In order to avoid delays in your brush/bulky waste item collection, the following guidelines must be followed: • Place brush in front along curb or street, accordingly, as to not block traffic (brush includes tree limbs, branches, and grass clippings, cactus, leaves should be in bags) • Cut tree limbs in lengths of 8 feet or less • Separate brush and bulky items (bulky items includes furniture, washers, dryers, tables, wooden chairs, etc.) • Have your items out before the scheduled collection date • Brush schedule can be picked up at the entrance of City Hall DO NOT: • Do not place items on top of gas meters, water meters, electrical boxes or under low wires • Do not place items within 6 feet of cars, mailboxes or other objects • Do not mix bulky items and/or brush with trash, cardboard boxes, clothes, plastics, etc • Do not place plastics, cardboard boxes, lumber, debris in alley/MUST BE PLACED IN FRONT OF YOUR PROPERTY. NO ITEMS SHALL BE PLACED ON VACANT LOTS! ITEMS NOT COLLECTED: • Batteries • Tires • Liquids or hazardous waste • Construction material (sheet rock, lumber, roof shingles) • Appliances containing Freon • Clothes or household garbage Please be advised that these guidelines must be followed in order to provide adequate brush service. Brush will not be picked up by Republic Services if brush is mixed with other types of debris. Failure to comply will subject you to dispose of the debris at your own expense.
IF YOU WITNESS ANYONE ILLEGALLY DUMPING PLEASE GET LICENSE PLATE, MAKE & MODEL OF VEHICLE AND CONTACT CODE ENFORCEMENT AT 787-0006 EXT 132 OR ALAMO POLICE DEPT. AT 787-1454. RESIDENTS CAUGHT ILLEGALLY DUMPING WILL BE FINED.