Contact Us
Recycling
Ernesto Solis
esolis@alamotexas.org
Tel: (956) 787-0006 ext 131
Cell: (956)784-8131
At the City of Alamo, we are constantly working to increase the capacity of our solid waste management. The City of Alamo has been working diligently to increase their capacity on solid waste management. Hours of operation:
Alamo Recycling Center
Monday- Friday
8:00 am – 12:00 pm
1:00 pm – 5:00pm.
Closed 12:00 pm – 1:00 pm
A.R.T.I.E Stand Alone Facility
Monday – Friday
8:00 am – 8:00 pm.
Saturdays
8:00 am – 12:00 pm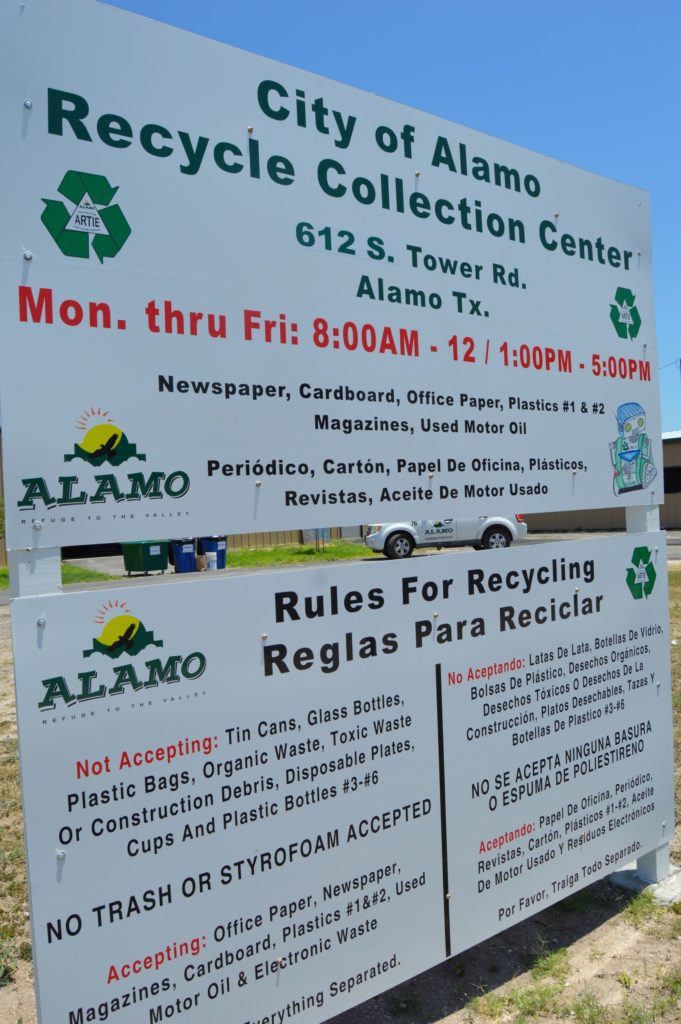 What We Take
At our Recycling Center we accept the following items:
Paper
#1 and #2 plastics
Cardboard
Aluminum cans
Newspaper
Junk mail
Phone books
Books
Magazines
Shredded paper
Electronic waste will be accepted at the Recycle Center.  Accepted items will be most electronic devices EXCEPT CRT monitors and CRT TVs. Flat screen tvs are accepted. Recycling bins are placed at schools and RV Parks. If you have any questions please call Melisa Gonzales at 787-0006 x140.