Contact Us
Code Enforcer
Rosie Castellano
rcastellano@alamotexas.org
420 N. Tower Rd. Alamo, TX. 78516
Tel: (956) 787-0006 ext 132
Fax: (956) 283-8855
In an effort to adequately enforce city codes and to maintain a clean and beautiful area, we are asking Alamo citizens to please report any unsightly properties to the Code Enforcement Department. If you have any questions or concerns, please contact Ms. Castellano or fill out a Code Enforcement Complaint Form to report weed-filled lots, trash, debris, junked vehicles, etc.
Illegal dumping is defined as discarding waste in an improper or illegal manner, where it doesn't belong and/or where environmental damage is likely.
IF YOU WITNESS ANYONE ILLEGALLY DUMPING PLEASE GET LICENSE PLATE, MAKE & MODEL OF VEHICLE AND CONTACT CODE ENFORCEMENT AT 787-0006 EXT 132 OR ALAMO POLICE DEPT. AT 787-1454. RESIDENTS CAUGHT ILLEGALLY DUMPING WILL BE FINED.
PLEASE HELP US KEEP ALAMO CLEAN AND BEAUTIFUL!
Click Weeds and Brushes Ordinance in Forms page to view/print.
Garage/Yard Sales
Permits are required when planning for a Garage/Yard Sale. The owner or occupant, with permission from the property owner, shall obtain a permit from the Utility Billing Department before conducting a garage, yard or porch sale. The cost for the permit is ten dollars ($10.00) and will be issued to cover a period of no more than three (3) consecutive days. There is a limit of four (4) permits allowed per calendar year. It is unlawful for the owner or occupant to conduct a garage, yard, or porch sale without having first obtained such permit. Failure to obtain a permit will result in a fine. For questions regarding garage/yard sales please contact the Code Enforcement Department at 956-787-0006 x 132 or the Utility Billing Department at (956)787-0006 option 3.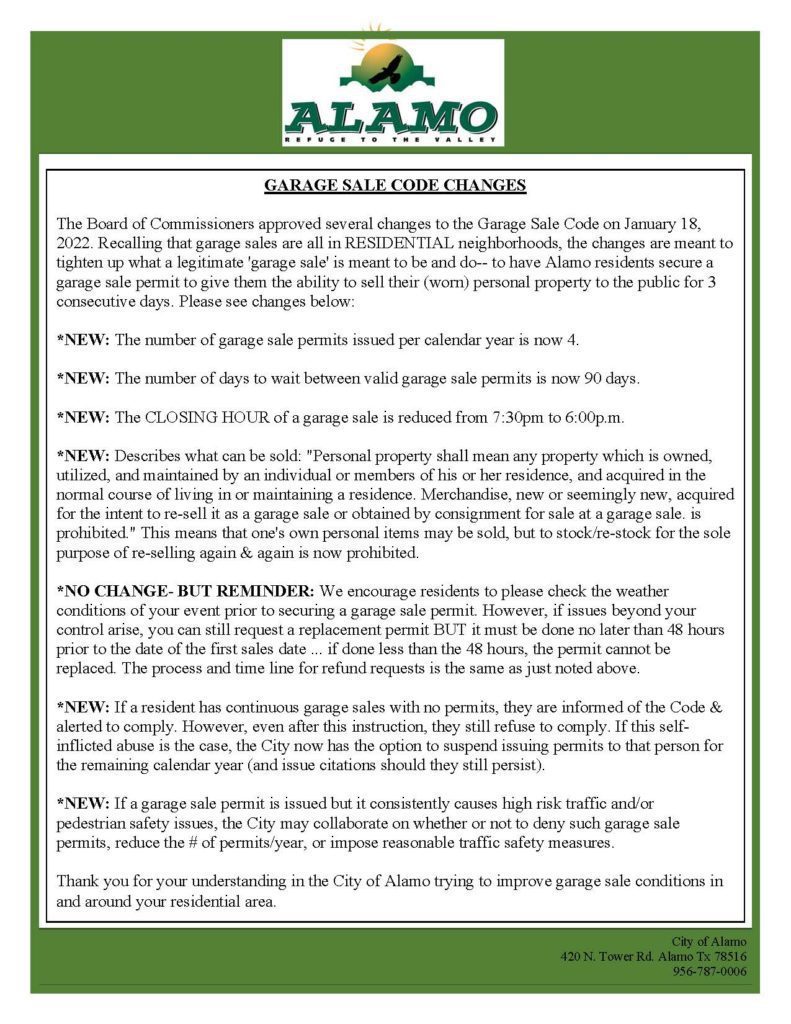 Brush Pickup Schedule