Contact Us
Storm Water Manager
Ernesto Solis
esolis@alamotexas.org
420 N. Tower Rd. Alamo, TX. 78516
Tel: (956) 787-0006 ext 131
Fax: (956) 283-8855
Storm Water Hotline
(956) 784-8131
In August 2007, the Texas Commission on Environmental Quality (TCEQ) published the Phase II MS4 (Municipal Stormwater) regulations and issued the first round of general permit for small MS4 operators, in which Alamo fell into. Alamo was required to submit a Five year Storm Water Management Plan (SWMP) for state approval that outlined the cities plan to meet state regulations from 2008 to 2012.  In 2013, TCEQ issued their second round general permit which requires a number of administrative & legal requirements and to update, implement and enforce the new Five-year SWMP designed to reduce the discharge of pollutants from the Alamo MS4 to the maximum extent practicable to protect water quality.
Best Management Practices to be regulated:
Outreach, Education & Public Participation
Illicit Discharge Detection & Elimination
Construction Stormwater Controls
Post-Construction Control Measures
Pollution Prevention & Good Housekeeping for Municipal Operations
Impaired Water Bodies & Total Maximum Daily Load
Legal Authority
Public Hearing
Notice is herby given that The City of Alamo Storm Water Division will hold a Public Hearing on Thursday, September 30, 2021 at Alamo City Hall starting at 5:00 p.m. to consider the following:
The City of Alamo Storm Water Program. The public is hereby invited to attend and make public comment on the MS4 being discussed. For additional information or questions concerning the above, please call City of Alamo at (956)787-0006 x 131.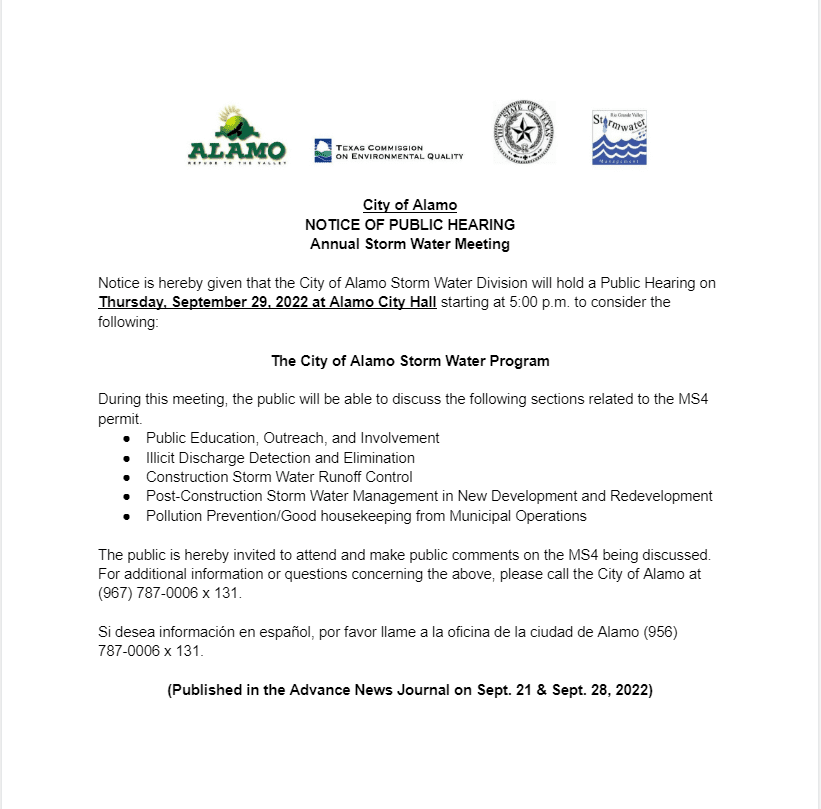 Understanding Storm Water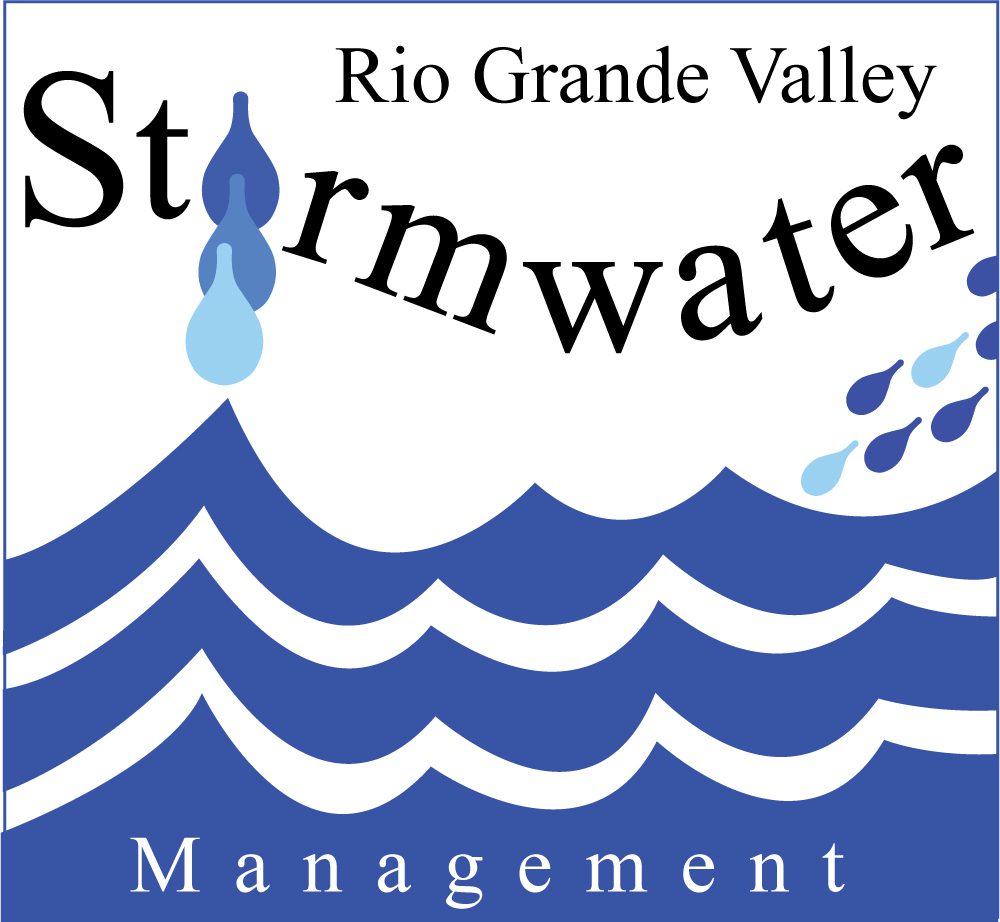 Storm water is a term used to describe water that originates during precipitation events. It may also be used to apply to water that originates from over watering that then enters the storm water system. Storm water that does not soak into the ground becomes surface runoff, which either flows directly into surface waterways or is channeled into storm sewers, which eventually discharge to surface waters. Storm water is of concern for two main issues: one related to the volume and timing of runoff water (flood control and water supplies) and the other related to potential contaminants that the water is carrying, i.e. water pollution. Some of the most common pollutants include:
Oil and grease from roadways
Pesticides for lawns
Sediment from construction sites
Carelessly discarded trash such as cigarette butts, paper wrappers and plastic bottles
Additional links and information about storm water management: