CITY OF ALAMO
2021 ANNUAL DRINKING
WATER QUALITY REPORT
(CONSUMER CONFIDENCE REPORT)
(956) 787-2232 (956) 787-8321 (956) 787-0006
SPECIAL NOTICE: Some people may be more vulnerable to contaminants in drinking water than the general population. Immuno-compromised persons such as persons with cancer undergoing chemotherapy, persons who have undergone organ transplants, people with HIV/AIDS or other immune system disorders, some elderly and infants can be particularly at risk from infections. These people should seek advice about drinking water from their health care providers. EPA/Centers for Disease Control and Prevention (CDC) guidelines on appropriate means to lessen the risk of infection by Cryptosporidium and other microbial contaminants are available from the Safe Drinking Water Hotline 1-800-426-4791.
PUBLIC PARTICIPATION: Regular Commissioner's meetings are held the 1st and 3rd Tuesdays of the month, at 6:00 pm, in the Municipal Building located at 420 N Tower Road, Alamo, Texas.
ALL DRINKING WATER MAY CONTAIN CONTAMINANTS. When drinking water meets federal standards, there may not be a health-based benefit to purchasing bottled water or point of use devices. Drinking water, including bottled water, might reasonably be expected to contain at least small amounts of some contaminants. The presence of contaminants does not necessarily indicate that water poses a health risk. Information about contaminants and potential health effects can be obtained by calling the EPA's safe drinking water hotline at 1-800-426-4791.
The TCEQ completed an assessment of our water and results indicate that our sources have a low susceptibility to contaminants. The sampling requirements for our water system are based on this susceptibility and previous sample data.  Any detections of these contaminants may be found in this Consumer Confident Report.  In order to ensure that tap water is safe to drink, EPA prescribes regulations which limit the amount of certain contaminants in water provided by public water systems. FDA regulations establish limits for contaminants in bottled water which must provide the same protection for public health. For more information on source water assessments and protection efforts at our system contact Robert Salinas at (956)787-0006.
Este informe incluye informacion importante sobre el agua potable. Si tiene preguntas o comentarios sobre este informe en espanol, favor de llamar al tel. (956) 787-2232 para hablar con una persona bilingue en espanol.
NOTICE MAILED 06/30/2022
WATER SOURCES: Our raw water supply is derived from the Rio Grande River and is delivered to us via numerous miles of river, dams, cement canals and cement piping which is owned and operated by the Hidalgo County Irrigation District No 2. As water is delivered, it dissolves naturally occurring minerals and even picks up substances resulting from the presence of animals or from human activity. TCEQ will be reviewing all of Texas drinking water sources. The source water assessment has been completed and the report, which will be available this year, will allow us to focus on our source water protection activities. Contaminants that might be expected in untreated water include: microbial contaminants such as viruses and bacteria; inorganic contaminants such as salts and metals; pesticides and herbicides, organic chemicals from industrial or petroleum use and radioactive contaminants resulting from oil and gas production and mining activities.
ABOUT THE ENCLOSED PAGES: the enclosed pages list all of the federally regulated or monitored constituents, which have been found in your drinking water, US EPA requires water systems to test up to 97 constituents.
SECONDARY CONSTITUENTS: Many constituents such as calcium, sodium, or iron, which are often found in drinking water, can cause taste, color, and odor problems. The taste and odor constituents are called secondary constituents and are regulated by the State of Texas not EPA. These constituents are not cause for health concerns. Therefore, secondary's are not required to be reported in this document but they may greatly affect the appearance and taste of your water.
DEFINITIONS
MAXIMUM CONTAMINANT LEVEL (MCL)-The highest permissible level of a contaminant in drinking water. MCLs are set as close to the MCLGs as feasible using the best available treatment technology.
MAXIMUM CONTAMINANT LEVEL GOAL (MCLG)-The level of a contaminant in drinking water below which there is no known or expected health risk, MCLGs allow for a margin of safety.
MAXIMUM RESIDUAL DISINFECTANT LEVEL (MRDL)-The highest level of disinfectant allowed in drinking water. There is convincing evidence that addition of a disinfectant is necessary for control of microbial contaminants.
MAXIMUM RESIDUAL DISINFECTANT LEVEL GOAL (MRDLG)-The level of a drinking water disinfectant below which there is no known or expected risk to health. MRDLGs do not reflect the benefits of the use of disinfectants to control microbial contamination.
TREATMENT TECHNIQUE (TT)-A required process intended to reduce the level of a contaminant in drinking water.
ACTION LEVEL (AL)-The concentration of a contaminant which, if exceeded, triggers treatment or other requirements that a water system must follow.
ABBREVIATIONS:
NTU – Nephelometric Turbitity Units (a measure of turbidity)                             na – not applicable
pCi/l – picocuries per liter (a measure of radioactivity)
ppb – parts per billion or micrograms per liter (mg/l)
ppq – parts per quadrillion or pictograms per liter(pg/L)
MFL – million fibers per liter (a measure of asbestos)
ppm – parts per million or milligrams per liter (mg/l)
ppt – parts per trillion or nanograms per liter
Recommended Additional Health Information for Lead
"If present, elevated levels of lead can cause serious health problems, especially for pregnant women and young children. Lead in drinking water is primarily from materials and components associated with service lines and home plumbing. This water supply is responsible for providing high quality drinking water, but cannot control the variety of materials used in plumbing components. When your water has been sitting for several hours, you can minimize the potential lead exposure by flushing your tap for 20 seconds to 2 minutes before using water for drinking or cooking. If you are concerned about lead in your water, you may wish to have your water tested. Information on lead in drinking water, testing methods and steps you can take to minimize exposure is available from the safe Drinking Water Hotline at www.epa.gov/safewater/lead.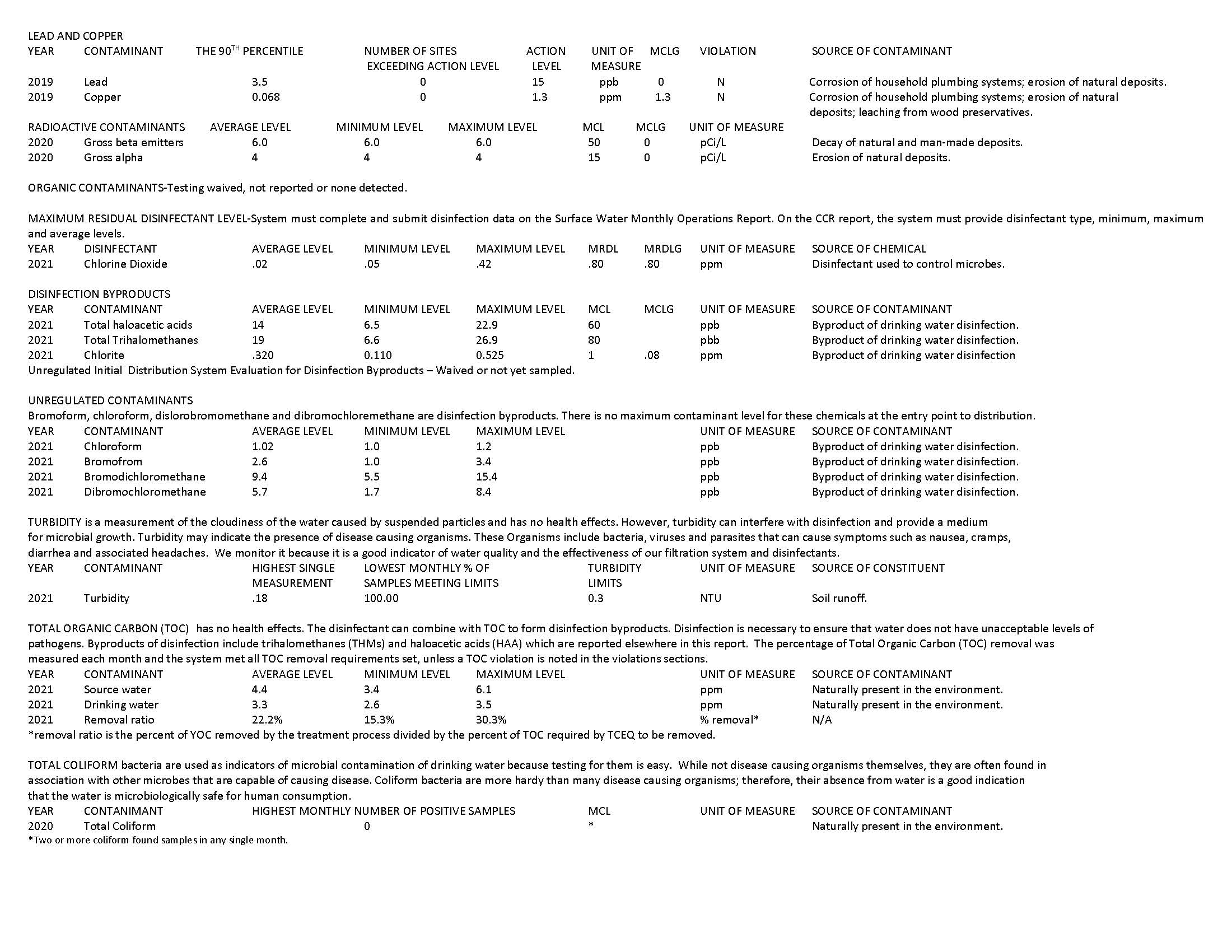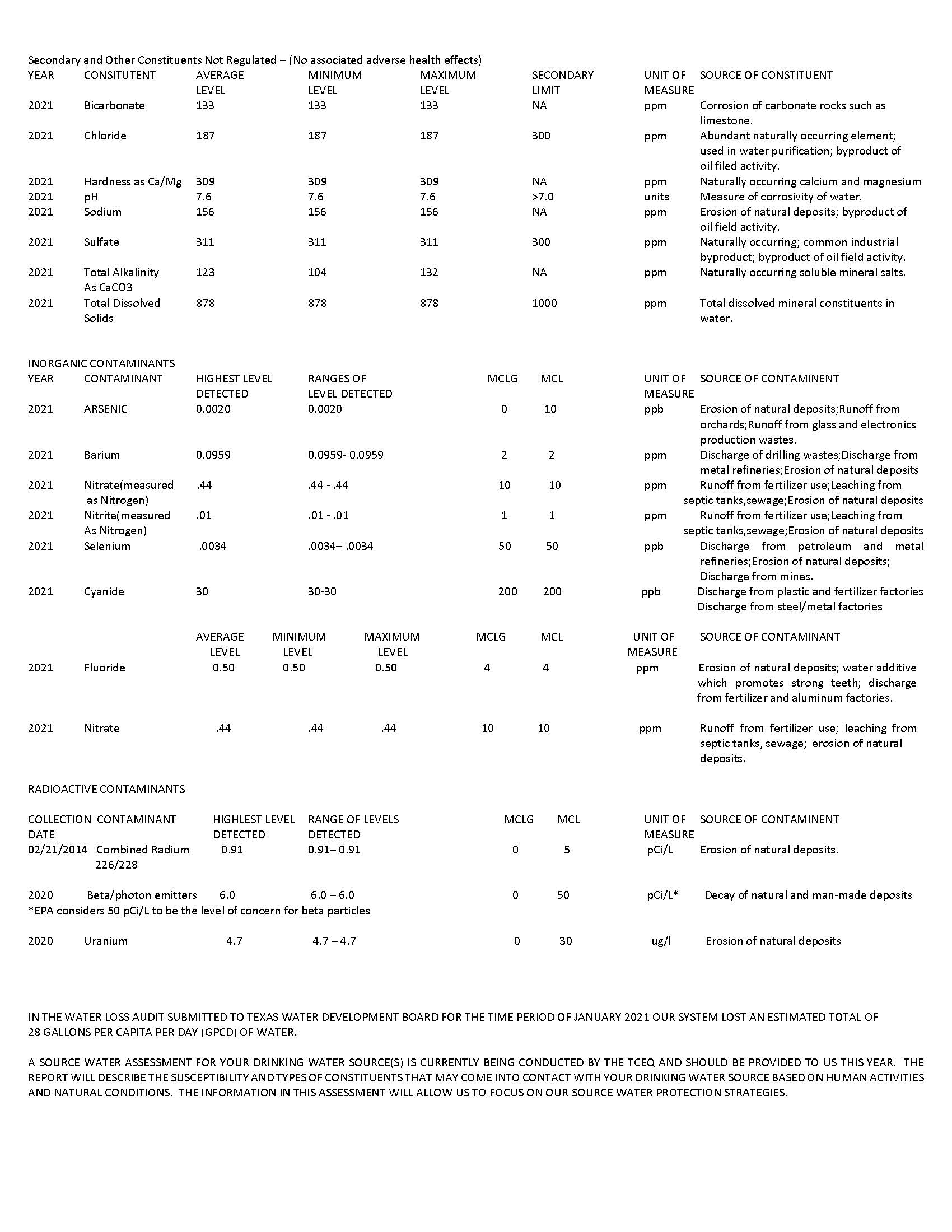 CITY OF ALAMO 2021 ANNUAL DRINKING WATER QUALITY REPORT (CONSUMER CONFIDENCE REPORT).PDF