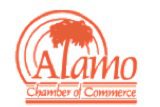 The City of Alamo is a great place to do business as over 1,800 call the city home. The community has a retail vacancy rate of 3.4%, which makes Alamo commercially appealing for small business owners. While the city has a growing population of over 18,000, businesses in Alamo have a retail potential of over $500 million with larger populations nearby. Alamo is filled with plenty of small businesses that account for a large portion of commercial activity and jobs in the city. Businesses range among beauty shops, beauty schools, coffee shops, one-of-a-kind boutiques, event halls, local mechanics, tire shops and professional services.
Retail
Alamo also counts on a number of national, regional and local chains to provide residents and visitors the best experience possible. Walmart and H-E-B are two of the city's largest commercial anchor retailers. Visitors also have a number of small popular retailers like Bealls, Cato Fashions, Walgreens, CVS, Dollar General, Dollar Tree and Family Dollar. As a result of Alamo's continuous growth, the most recent addition to the city is a very popular Goodwill Store.
Food
Restaurants are abundant in Alamo, catering to the bilingual and skilled workforce looking for a delicious menu. The city has a variety of choices for every taste bud, including regional and national brand chain restaurants that include:
Jack In The Box
Wingstop
McDonald's
Burger King
Whataburger
Dairy Queen
Stars
Church's Chicken
Peter Piper Pizza
Little Caesar's
Pizza Hut
Subway
Alamo also supports local eateries known for captivating the entire southern region with unique and authentic flare:
The Original Willie's Bar-B-Q
El Dorado
Tower Burger
Carmelita's
Muelle 37
El Manná Grill
Taqueria El Zarape
Coffee Time
Unique Markets
One unique shopping experience is the Alamo Flea Market, or Alamo Mercadome. For over 30 years, numerous rows of unique shops and hard-to-find items have captivated thousands of people across the United States. Alongside finding a great bargain, the Alamo Flea Market's popularity has grown to include its own dancehall where local music and great entertainment are common.
Join the Success
One thing business can count on is the support of the Alamo Chamber of Commerce. The Chamber provides a voice for the business community and a platform for positive commercial change. It also provides businesses with a chance to network via social events, ribbon cuttings and business related workshops. Businesses can take part in the Chamber of Commerce's affordable Membership Plans:
$15 for Winter Texans
$35 for individuals and service organizations
$100 for businesses with 1-14 employees
$250 for businesses with 15-50 employees
$500 for businesses with 51 employees or more
For more information on membership or membership applications, please contact the Alamo Chamber at 956-787-2117, or email
alamotx.chamber@gmail.com
. You can also visit online by
clicking here
.